FACIAL REJUVENATION TREATMENT:
PUT YOUR BEST FACE FORWARD
As colder weather rolls in, we can hide our body, but the face stays revealed. It tells the world our age, lifestyle and emotions before we even say a word. What story would you like your face to tell?
At Jlounge, we believe that taking years off your face starts with addressing the root cause of the issue. For instance, which stressor is causing premature aging – is it work? Poor diet? Smoking? The first step of providing our facial rejuvenation treatment is a full assessment of such factors along with the acupuncture points of the body.
Depending on your needs, we offer a variety of rejuvenation treatments:
STANDARD FACIAL REJUVENATION ACUPUNCTURE
$125 | 60 minutes
Standard treatment includes full assessment and diagnoses along with acupuncture points on the body, as well as focused points on the face.
STANDARD SERIES OF 10
$1125 | 10 - 60 minutes
Series of 10 standard Facial Rejuvenation Acupuncture treatments, offering the benefits of repeat treatments.
ULTIMATE FACIAL REJUVENATION ACUPUNCTURE WITH NUFACEÂ
$195 | 90 minutes
Ultimate acupuncture facial includes the enhanced version plus adds the benefits of nuface, a microcurrent and LED device and the cryostem cell therapy, that make lifting, firming and collagen production results more intensified.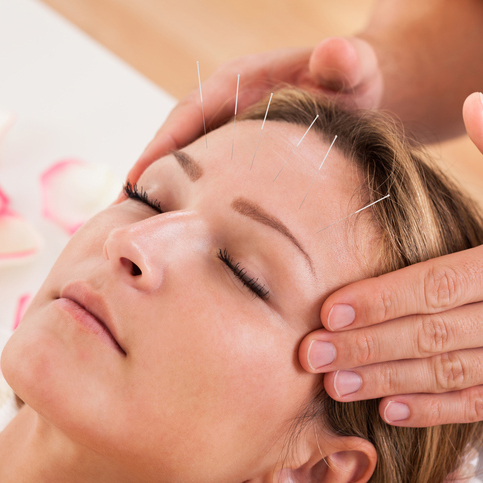 ULTIMATE SERIES OF 10
$1550 | (5 standard with Nuface and 5 Ultimate treatments)
Series of 10 Ultimate Facial Rejuvenation Acupuncture treatments, offering the benefits of repeat treatments.
Eases Aches and Pains
Most doctors offer drugs and prescriptions to ease daily aches and pains and accidental injuries. But acupuncture is a natural way to ease those symptoms by increasing the flow of oxygenated blood to the affected area, which increases the healing process.
Soothes Indigestion
Many people are experiencing gastrointestinal problems and aren't properly receiving treatment. Acupuncture can target almost all of these problems including heartburn, indigestion, cramping and diarrhea by relieving stress to the intestinal track.
Ends Migraines
When a major headache or migraine hits, many people pop an aspirin and lie in bed for the day before going back to life as normal. But ongoing acupuncture sessions have been proven to relieve frequency and intensity of such tension headaches by rectifying both the muscles and chemicals in the brain.
Anxiety and Depression
Every person encounters anxiety on a daily basis and many even experience serious depression. Acupuncture has been proven to relieve stress and anxiety and leave the patient feeling relaxed and able to deal with life's pressures.
Improves Sleep
By combating a number of insomnia inducing symptoms including stress, anxiety, chronic pain, and traditional insomnia, acupuncture increases nighttime melatonin production and sleep time.
Have more questions or are interested in treatment? Click below to set up your first appointment and get one step closer to less pain in your life!
FOLLOW-UP ACUPUNCTURE TREATMENTS
$75 | 45 minutes
Depending on the condition, weekly foll
ow-u
p acupuncture sessions are recommended for
the
most effective results. Experience our PEPPERMINT ZEN FULL-SPECTRUM TINCTURE
 before you receive acupuncture.
PRENATAL/POSTPARTUM ACUPUNCTURE TREATMENT
$75 | 45 minutes
Acupunctu
re can safely treat
many symptoms and discomforts during pregnancy, along with supporting
the b
aby's development and preparing
the
mom's body for a smooth labor and birth experience.